NEW DELHI: India has recorded 'above normal' monsoon rainfall for the second year in a row and this has happened only second time in the past over 60 years.
The country had recorded two consecutive years of 'above normal' rainfall last time in 1958 (110% of long period average) and 1959 (114% of long period average).
Releasing salient features of 2020 south-west (summer) monsoon, the India Meteorological Department (IMD) on Thursday said all India seasonal rainfall this year was quantitatively third highest in the past 30 years, after 112% of long period average (LPA) in 1994 and 110% of LPA in 2019.
Source: IMD
The distribution of seasonal rainfall during the June-September period was, however, not uniform. The country had recorded the highest 127% of LPA rainfall in August while July was the deficit month with 90% of LPA.
Quantitatively, the rainfall during the June 1-September 30 period had been 95.8 cm against the long period average of 88 cm based on data of 1961-2010 – it means the country overall recorded nearly 9% surplus rainfall (109% of LPA).
The monsoon rainfall has to be between 96-104% of LPA to be considered as 'normal' and between 104-110% of the LPA to be figured as 'above normal'.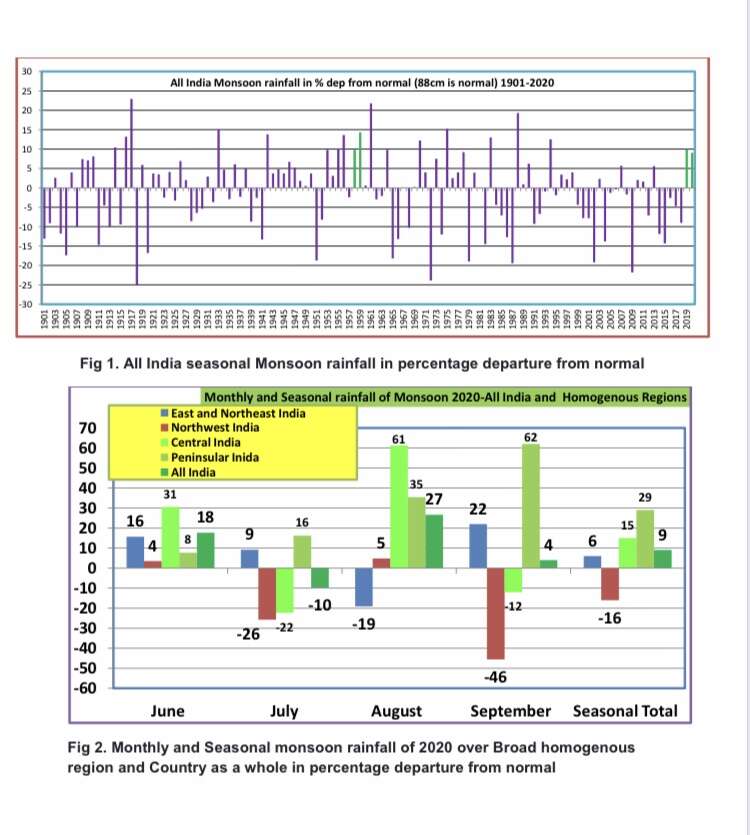 The IMD's first stage forecast for the seasonal rainfall over the country as a whole, issued in April, was 100% of LPA with a model error of ± 5% of LPA. The forecast was, however, upgraded to 102% of LPA with a model error of ± 4% of LPA in the IMD's update in May end.
The IMD also predicted a probability of 65% of monsoon rainfall to be normal to 'above normal'. The actual seasonal rainfall for the country as a whole was 109% of LPA, which is more than the predicted value and thus turned out to be very positive for the Kharif (summer sown) crops sowing.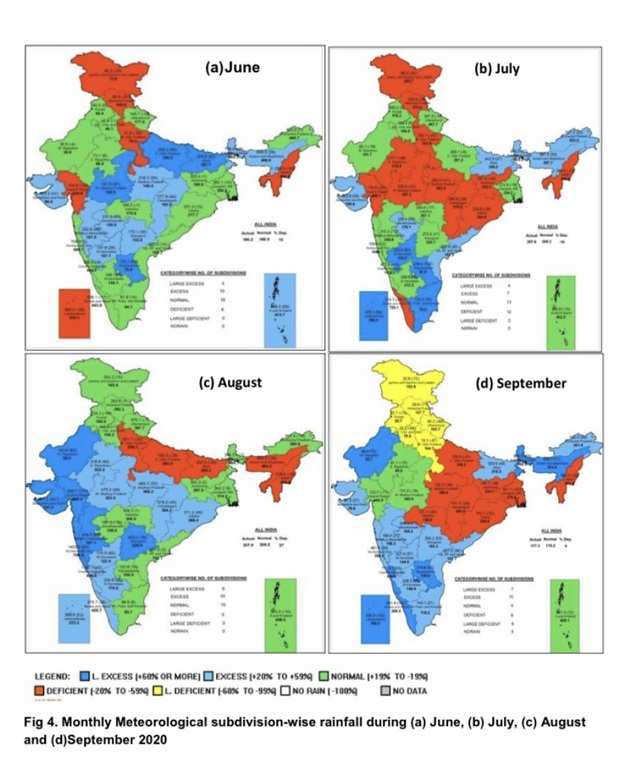 Source: IMD
Though India had recorded deficit rainfall in July, the surplus rainfall in June, August and September the country recorded an all-time high acreage. Based on it, the agriculture ministry has set a record target of 301 million tonnes of food-grains for the 2020-21 crop year.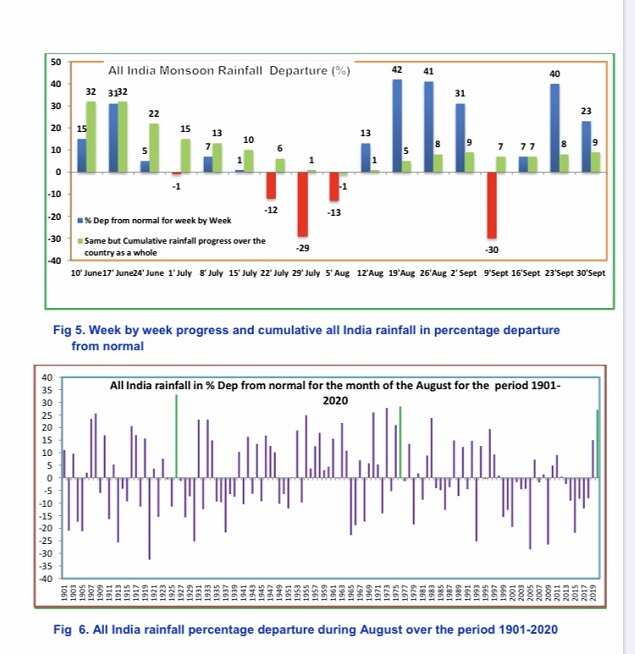 The monsoon started retreating from western parts of north-west India on September 28 against the normal withdrawal date of September 17 with a delay of around 11 days. "Withdrawal has been delayed mainly due to active monsoon trough in association with the formation of two low pressure systems in September," said the IMD.
As on Thursday, the south-west monsoon has withdrawn from Punjab, western Himalayan region, Haryana, Chandigarh, Delhi and many parts for Rajasthan and some parts of Uttar Pradesh.