Back from the
Venice Film Festival
, Chaitanya Tamhane is trying to not think about the Golden Lion. The 32-year-old's film, 'The Disciple', has taken India back in competition at the world's oldest film festival for the first time in 20 years. The announcement comes on Saturday.
"At the premiere, I was staring at the floor, kind of hiding. Every time I would look up, I would only spot mistakes. So I'm quite restless and uneasy when watching the film," Tamhane told TOI from Mumbai. The festival went well. "There was a sustained applause at the end of the screening. Nobody left the theatre."
The film has opened to critical acclaim and is set for a busy festival season. "There is
Toronto
(film festival), then BFI (
British Film Institute
) and New York Film Festival, all of which is between September and October. We couldn't have asked for a better Fall festival run." It's not new to him, though. His last film, 'Court', about a social activist accused of abetting a manual scavenger's suicide, had won the National Award, been a festival favourite and placed Tamhane on the map. That was six years ago.
The Disciple team at Venice Film Festival
"I feel like 'Court' was my attempt at an exercise in empathy," he said. "It's really really sad, how we have systematically destabilised any kind of intellectual discourse, academia, expertise, voices of dissent … My idea was to understand and see the smaller evils that are taking place on a day-to-day basis. People who are not exactly supervillains who run the show, people who are cogs in the wheel. Where do they come from? What forms their biases? Their conditioning and prejudices?"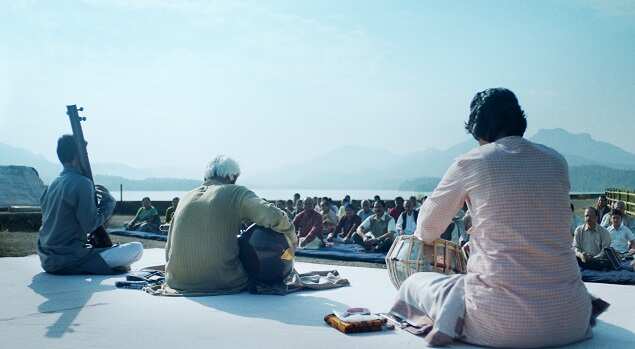 A still from The Disciple
Involved in the film, right from inception, was Oscar-winning Alfonso Cuaron, who was executive producer of this film and has been a mentor to Tamhane for four years. "I attended the shoot of 'Roma', I saw him at work … That's how our relationship started. He was very involved in 'The Disciple' from its genesis. Before I had even written the script, we spoke about it." He is also the one who encouraged Tamhane to edit the film, a first for him. "I was looking for an editor and it wasn't working out, with the people I was meeting. And then Alfonso Cuaron encouraged me to do it myself."